PAPER ANALYTICAL DEVICE (PAD)
The Problem
About 10% of the pharmaceuticals that are purchased in the developing world are substandard or outright fake drugs. Study after study reveals pervasive poor quality and products that are worthless or even harmful to patients, and since the pharmaceutical trade is a lucrative global market, low quality medicine can cross borders and harm people anywhere in the world.
What is being done?
A group of researchers at the University of Notre Dame, under the direction of Dr Marya Lieberman, have been collaborating with pharmacists at AMPATH/Moi Teaching and Referral Hospital since 2012 to detect low quality medicines in western Kenya. They collect post-market samples of common medicines and test them quickly with a PAD. Follow up on suspicious samples is done at Notre Dame, and researchers are developing HPLC capacity at Moi University. In 2015, two donated HPLCs were sent to Eldoret, where pharmacists were trained on how to operate them.
HPLC assays complement experiments that are currently done in Instrumental Analysis or Analytical Chemistry courses at colleges and universities. This led to the introduction of the Distributed Pharmaceutical Analysis Lab (DPAL). DPAL uses the analytical resources and expertise at academic institutions to test suspect medication samples from Kenya, Uganda, Tanzania, India, Nepal and Malawi. Dr. Lieberman has developed a checklist that interested institutions/researches can use to demonstrate system suitability. When participants fulfill the checklist, a box of samples is sent to the participating faculty member, undergraduate researcher, or chemistry club for analysis.
This is an example of a medication the team found during an HPLC training session at Notre Dame: Potentiated beta lactam antibiotic has no detectable clavulanic acid. Clavulanate is a potentiating agent that enables amoxicillin to kill resistant bacteria. Several samples of this medication gave similar results. Thanks to the efforts of undergraduate researchers at DPAL, this sample was reported to the Kenyan medical regulatory authorities and the World Health Organization RapidAlert system in 2014.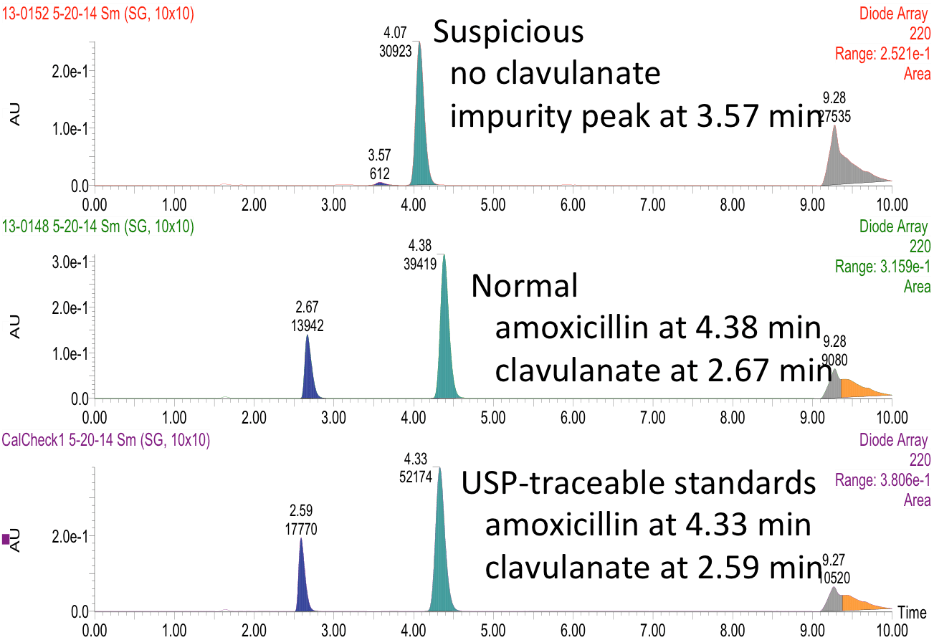 Get Involved
Join the Distributed Pharmaceutical Analysis Lab (DPAL). This is a great opportunity for research experience for undergraduate, graduate and post-doctoral students.
Check out this link for more information on such opportunities.
The Distributed Pharmaceutical Analysis Lab (DPAL) provides high quality, validated chemical analysis of pharmaceutical samples from partners in the developing world. This collaboration with Chemists Without Borders enables the use of analytical resources at academic institutions and companies in the US, and other countries, to perform characterization of suspect medications that have been collected and screened in Kenya, Uganda, Tanzania, India, Nepal, or Malawi.
Is your institution interested in joining hands with Dr. Lieberman and her team to bring an end to this injustice? Click here for further information
Team Contact
Dr. Marya Lieberman
Further Information and Resources