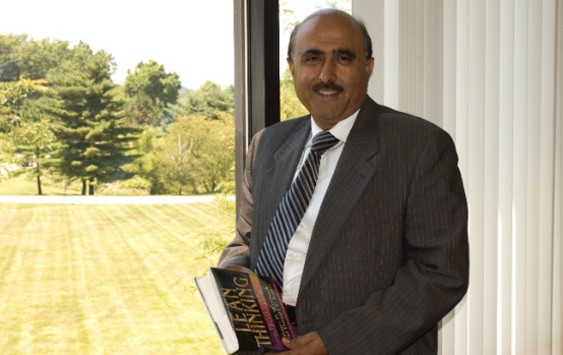 Mr. Hafeez has unique qualifications and expertise as an entrepreneurial executive for global business, advanced engineered material, global quality (20+ yrs), and supply chain management. He had the vision and leadership to invent Nadcap, leading grass root development and brand named seven additional programs that have drastically improved quality in the Aerospace, Space, Automotive, and Defense Industry supply chain.
Working with multi-billion-dollar company corporate executives, his accomplishments is that of the combined experience of several manufacturing, quality and engineering CEO's, VP's and Directors, Mr. Hafeez's contribution has been compared to the accomplishments of Aerospace and Automotive industry leaders (Dr. Deming) in continual improvement and quality.
Mr. Hafeez's professional employment began with Occidental Chemicals and after two years, he joined Alcoa. Mr. Hafeez joined SAE International in 1987 to manage the Aerospace Materials Specifications (AMS), content management and had the vision to invent Nadcap, which is used by over 60 prime contractor and government agencies worldwide to manage over 9,000 accredited manufacturers in all three sectors in Asia, Americas, and Europe, and management/hiring of staff in China, Europe, India, and Japan offices.
In August 2010, Mr. Hafeez established a new venture QuaLease, LLC, a private company to provide expertise in quality Innovation, Six Sigma & Lean understanding, In 2013, he joined ABB, Inc., a $60 Billion company leading OPEX, Quality, Lean, Six Sigma, etc. he formulated a global team and strategy that saved $10,000,000 within 12 months. Mr. Hafeez joined Element Materials Technology in July 2019 as the Nadcap Quality Director. He is responsible for 35 Global Nadcap accredited sites, overall quality, and customer approvals.
Arshad Hafeez graduated with the Bachelor of Science Degree in Metallurgical Engineering from Imperial College, University of London. He then progressed on to complete the Master of Engineering in Metallurgy from McGill University in Montreal, Canada. And further postgraduate studies at Carnegie Mellon University in Pittsburgh.
Mr. Hafeez has been the recipient of various scholarships and awards which include the British Council Scholarship, Outstanding, Professional and Reliability, Outstanding staff achievement support for the development of Nadcap, PRI Board of Directors recognition and several other international recognitions. He has authored and presented 1 patent and over 120 papers.